Spending time with an experienced and proven coach is still the most reliable way to lower your scores and enjoy the game more.
Jamie Chapman
Jamie is the Assistant Golf Professional at Egwani Farms Golf Course. Originally from Brighton, England he came to America in 2009 to play college golf for Lincoln Memorial University at a NCAA Div 2 Level.
He had a very good college career with multiple wins, breaking a handful of school scoring records and was a NCAA ALL Region All American in his senior year. He graduated from there in 2013 and spent a couple years playing golf at the professional Level on a variety of mini tours and competing in the Web.com Qualifying school.
Coaching
​Every lesson I give I use the Pro V1 Video Swing analysis which is done on my iPad so that I can show you what I feel is an area we need to improve, in addition to this I feel the iPad is a wonderful tool as I can have it out on the driving range with me and not only give you instant feed back but I can physically show you then and there what you need to do. This I feel is a very important fundamental of my teaching as I want to show/explain your swing faults in such a way that when you are practicing on your own you know exactly what to do and why you are hitting the shots you do. (Your coaching yourself, and giving your self accurate feedback)
Golf is more than just the golf swing, so the first time I work with some one we will sit down and discuss your game as a whole not just your swing, I feel that finding the right areas to work on and improve is more important than perfecting a golf swing. Whether that means we need to work on short game/Pitching/Bunker play etc then i want to find your weaknesses and make them into your strengths.
Contact for Lessons
3920 S.Singleton Station Road
Rockford, TN 37853
Pro Shop: (+1) 865 970 7132
Cell: (+1) 423 441 0063
E-mail: jameschapmanpga@gmail.com
Eric Rebmann
Eric has over 25 years of experience teaching all ages and skill levels. To schedule a lesson or to ask any questions, please call Eric directly at 865-384-4901.
For more information about Eric, please visit ericrebmanngolf.com.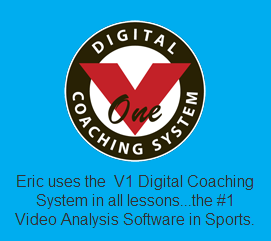 Alex Feliciano
Alex Feliciano is currently in the PGA of America as an Associate. He has over 10 years of experience in the golf industry. He excels at working with golfers new to the game and juniors.
To schedule a lesson or to ask any questions, please contact Alex directly at (865) 321-2369 or email lessons@egwanifarmsgolf.com.
45 minute lesson
Adult
$60
Junior
$40
Two Person – 1 hour lesson
$100
2 hour Lesson package (Round Included)
$150